BooksInNeed here, and hi to everyone out there reading this!
I really need to find a new into for this.
Anyways, I am doing a post on what I do when I'm not reading with a book ban for those people who have a book ban, or those who are reading this and saying " Help BooksInNeed!"
1. Listening to music
I am ADDICTED to listening to music. Not that much singing or dancing, but I will listen to music ALL DAY. If I could. I'm going to try to do a What Music I Listen To post, but right now, on with the list!
2. Texting and calling friends
Texting and calling people takes the edge off of a book ban because I can finally have fun with them and everyone is amazing making me feel better! A shout out to PatBunny for being my soul sister!
3. Book Apps
I've honestly missed books so much, I downloaded an app that are comic books, but they still hold potential! It's not going against my book ban, which is no going to the library, but I still can read something! I saw an add on this app and I literally thought that it was a sign that said "BooksInNeed, GET THIS APP RIGHT NOW!", so I just listened to what it said. The app is called WebToon if you wanted to know, and it isn't half bad.
4. Laying down and doing nothing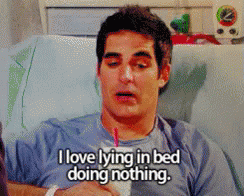 I have no idea how many times I've done this, but I just lay down on my bed (sometimes I listen to music doing this) and stare at the wall, just thinking. Sometimes it's a story, sometimes I think about what happened until that point if time, but I just lay down and do nothing.
5. Blogging!!!
Blogging is my best remedy to missing out on books!!! It's where I put all my bookish thoughts and you all actually understand what I'm saying! (It's better than when I used to talk to my wall, don't ask). I honestly love reading all of your reviews and commenting on all of them! GROUP HUG!!!
That's all! You all are amazing, and I have no idea what I would be doing right now without you! Probably sitting in corner, doing nothing, but still. THANK YOU!
-BooksInNeed